ESSA-Every Student Succeeds Act
What do you want Oklahoma public schools to do and be?
Now is an ideal time to help improve preK-12 public education in Oklahoma. The federal Every Student Succeeds Act (ESSA), signed into law by President Obama in December 2015, reauthorizes the Elementary and Secondary Education Act and replaces the No Child Left Behind Act of 2001. ESSA restores greater flexibility about federal education policy to states and districts while ensuring accountability for the success of all children.
Moreover, the new law provides an exciting opportunity for the Oklahoma State Department of Education (OSDE) to collaborate with education's many stakeholders – including parents, educators and community members – on an ESSA state plan improving results for kids. This is your chance to help determine how federal dollars should best be invested and to provide input that frames accountability and school culture in Oklahoma for years to come.
Our state has already made big strides forward. We are implementing strong, new academic standards for English language arts and mathematics and building a culture of excellence that replaces excessive standardized testing with more meaningful assessments and rich instruction.
More opportunities remain, however, and OSDE wants and needs your input. In the months ahead, OSDE staff will be soliciting feedback at town hall meetings and from various advisory boards and work groups.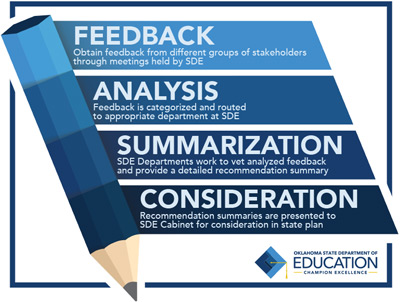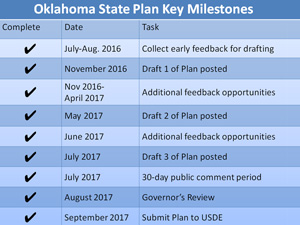 Please provide your feedback to this Draft Three at essafeedback@sde.ok.gov. Your input to the feedback is critical to producing a final consolidated state plan that is robust and reflects Oklahoma values. Thank you!