OUE parents and guardians - our windchill tomorrow will be dangerously cold! Please ensure your child is dressed appropriately for the weather. If your student does not have cold weather essentials such as a coat, hat, and gloves, please contact the office and we will fill this need! 💙❄️💛

Due to a continual increase in student and staff absences and illness, we are canceling school for tomorrow, Friday the 14th. This IS NOT a distance learning day. It will be treated as a snow day and will be made up on April 8. We are also scheduled to be out Monday in observance of MLK Day. We will see our students again on Tuesday the 18th. Please be healthy and well. 💙💛

From Dr. Wilkins: Since we returned from Christmas Break, we have seen a continual increase in students and faculty illness from COVID or another stomach bug that has gone around our elementary schools. We have several faculty and students that are out. As of now, we will continue to remain with "in-person" learning, but will monitor our faculty and student attendance very closely. Our custodial and maintenance staff are working hard to keep everything sanitized. We will keep you updated if things change. If you have questions, please contact us.

Report cards are coming home today! Have a good weekend!

Good evening, OUE families! The next two mornings are going to be bitterly cold, so please be sure that your student wears warm clothing and a coat to school. Thank you!

Happy New Year! Just a reminder that Monday is a Professional Development day for teachers. We look forward to welcoming our students back on Tuesday! 💙🎉💛

Tomorrow is a Distance Learning Day, and then Winter Break will officially begin! Our students will return to school on January 4. We wish you and your family a very happy holiday season! 💙🎄💛

Cookie dough is scheduled to arrive tomorrow, but the company is still not guaranteeing a specific timeline. We are so incredibly sorry for the inconvenience of the delays with this fundraiser, and we are very grateful for your patience and understanding!

To celebrate the last day of NWEA testing, Mrs. Adkins has made tomorrow a PJ Day for everyone! Wear those cozy, comfy pjs! 💙😴❤️

Unfortunately, we learned today that delivery of our cookie dough fundraiser items has been pushed back again. The estimated delivery date is now December 14. We are so sorry for the delay, and the company assures us they are working as quickly as they can to fill our order. Thank you for your understanding and support of this fundraiser!

Student Voice Advisory Group Meeting #1. Looking forward to great things that come from this collaborative work while giving students a voice!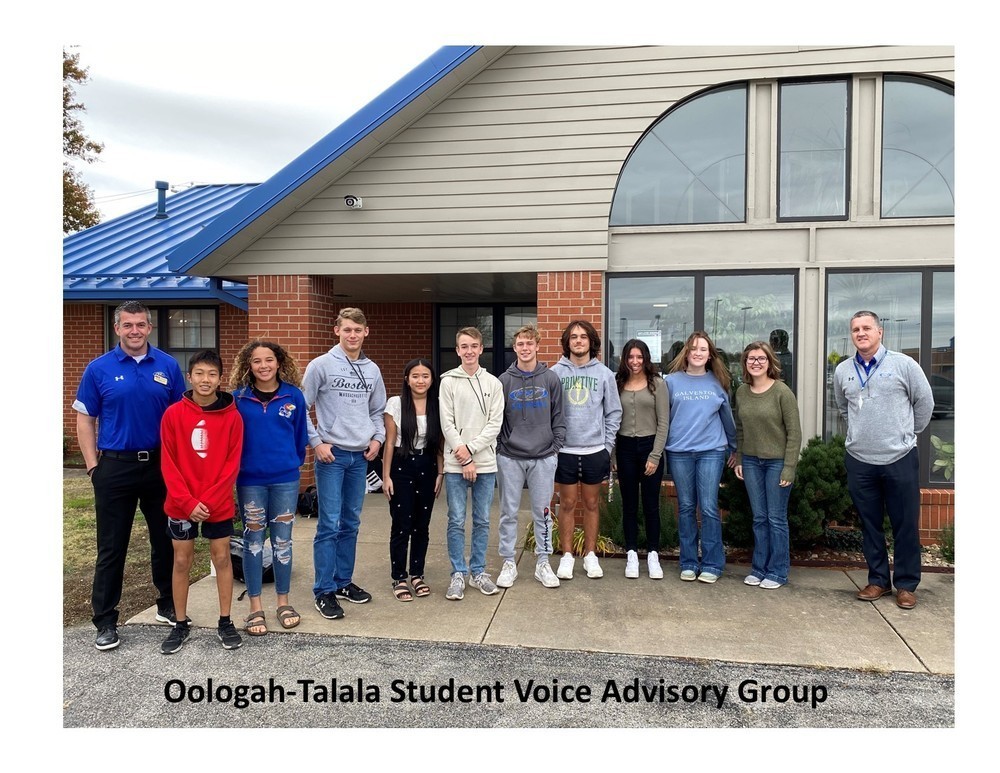 OUE Families, Please take this survey to help us gather feedback regarding the efforts in improving our District's Title IX compliance. There are only six questions. Thank you!
https://forms.gle/osw6ZQ4yQMh7gzCH8

Tomorrow is Veterans Day! Please join us for our assembly at 1:30 and encourage your child to wear their red, white and blue! ❤️🇺🇸💙

Our winter shirt order is open! We are offering crew neck sweatahirts, hoodies, and long sleeve t-shirts. You may click the link below to order online, and we will also be sending home order forms today if you would prefer that method. Orders will be accepted until 11/29. Thank you!
https://ouefallfundraiser2021.itemorder.com/

The Cherokee Nation will be here Wednesday November 10th from 9-12 in the UE library for flu and Covid vaccines. This will be for all faculty and students. The consent forms will be in each building office. They will be providing the Pfizer vaccine for Covid. If you have any questions please feel free to contact the office!

We will be honoring America's heroes on November 11th from 1:30 - 2:00 in the auditorium. All local veterans and their families are invited and welcome to attend! Please wear your red, white and blue!

It's getting C-O-L-D outside! Please be sure that your child is properly dressed for the temperatures each day, as we will have outside recess so long as the windchill is not below 36 degrees. We also have students who are in need of warm winter coats. If you are able to donate a new coat, it would be greatly appreciated! Thank you! 🥶🥶🥶

Happy Friday OUE families! We are in need of water bottles for our students. If you would be able to donate water bottles, we would greatly appreciate it! Thank you!!

Tomorrow is the final day of Red Ribbon Week, and it is also our Halloween celebrations! Your student may wear their costume to school with a few stipulations: no masks or paint that completely covers the face, no weapons of any kind, and no inflatable costumes. We can't wait to see their adorable costumes and have fun with our Halloween parties in the afternoon! Also, don't forget that we have our Halloween photo booth tomorrow. Each print is $5. Happy Halloween!

Red Ribbon Week continues tomorrow with tie dye day! 🎉🎉