The OUE Library will be open tomorrow evening from 6 to 8! Students from OUE and OLE can come check out books and get a treat! We hope to see you there! 💙📖💛

The Upper Elementary Library will be open tonight for OUE and OLE students! Come check out some books and get a popsicle! We hope to see you there! 💙📚💛


The OUE Library will be open on Tuesday, June 15 from 6:00 - 8:00 for OUE and OLE students to checkout books! Come and get some new books to read and a free popsicle! We hope to see you there! 💙📚💛


It's the last week of school! Can you believe it?! We have put a graphic of our biggest events (excluding events that are specific to one grade or classroom) on our website and Facebook page. We are so happy that parents are able to join us at the park, at field day and at our assemblies! At the assemblies, guests will have to wear a mask and sit in the back. Please check out the website or Facebook for more details! It's going to be a great week! 🥳🥳

Good afternoon! If you have a school-provided internet hotspot, please return it with the charging cord and battery on Monday. Thank you!

Our Book Fair starts today! We are so happy to finally be able to offer our students the chance to shop from an IN-PERSON book fair so they can get some awesome reads for summer! The fair will be open until Friday! 💙📚💛

Let's Flamingle tomorrow for Teacher Appreciation Week! Wear pink! 💙🦩💛

Tomorrow is the first day of Teacher Appreciation Week, and our theme is Hawaiian! Let's see those Hawaiian shirts, grass skirts, and leis! Please find time this week to let your student's teacher how much you appreciate all their hard work and dedication. This has been such an unusual and challenging year for teachers, but the educators of OUE have shown themselves to be resilient, creative, and innovative! Happy Teacher Appreciation Week!

5th Grade Parents - just a reminder that we are holding our annual puberty education classes tomorrow. The girls' class will be at 1:00 and the boys' class will be at 1:50. All students will participate in this class unless we have received a signed opt-out letter from a parent or guardian. If you would like to review the video that will be shown, the links are available on our website or the Facebook page. Thank you!

Next week is Teacher Appreciation Week, and OUE is going tropical! We have fun dress up days planned for our students. You can find the list of the days on our Facebook page and website! We can't wait to celebrate our amazing teachers and staff next week!

Hello 5th grade parents! On April 30, we will be holding our annual puberty education classes for our 5th grade students. This class is being instructed by a representative from the Oklahoma State Department of Health, in conjunction with our school nurse, Mrs. Kubien. The boys and girls will attend separate classes. Permission slips will be coming home this afternoon, and will only need to be returned if you DO NOT want your child to participate in the class. Any student without a returned permission slip WILL attend the class. If you would like to preview the video that will be shown at the class, you can click on the links below. As always, if you have any questions, please do not hesitate to contact our office! Girls Video:
https://www.youtube.com/results?search_query=always+changing+and+growing+up%3A++girls+puberty+education+video
Boys Video:
https://www.youtube.com/watch?v=G57Suq7JpQE

OUE presents the "Me and My Hero Masquerade Dance" (formerly known as the Father-Daughter Dance)! We are so excited to sponsor this event for girls enrolled in pre-k through 5th grade! Informational flyers and registration form will be coming home in the next couple days, and you can email Mrs. Adkins with any questions!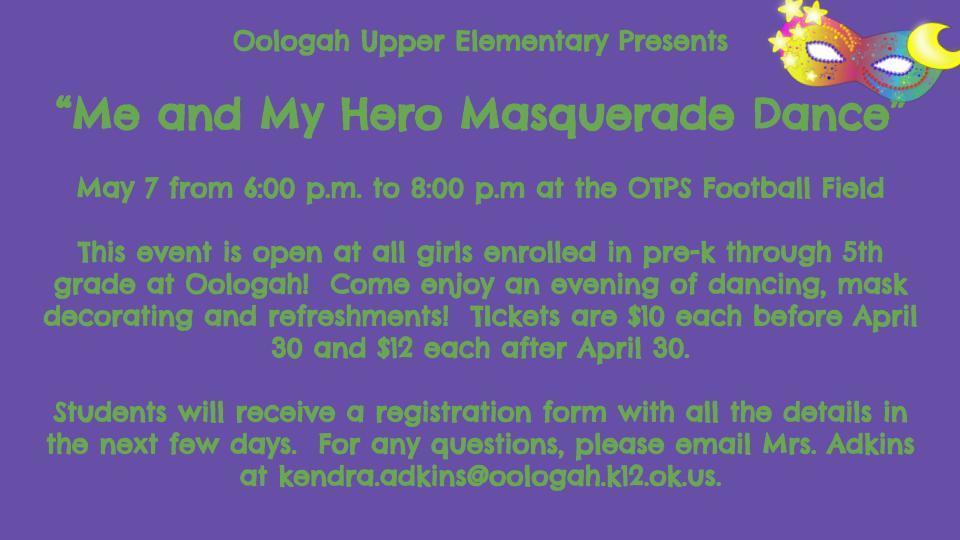 3rd quarter Progress Reports will be coming home this afternoon. Please check your child's backpack or folder for their report. Thank you!

OUE Yearbooks are on sale, and order forms went home today! The price is $15, and you can order anytime between now and May 28. Yearbooks will begin being delivered on May 10. Quantities are limited, so order soon! Thank you for your support!

State testing is almost here! The testing calendar for both in-person students and full-time virtual students has been published on our website and our Facebook page, and a paper copy is coming home this evening. We are also in need of donations of peppermints, bottled water, individually packaged snacks, and prizes that can be given as incentives for students who give their best effort on their test! Some ideas for incentives are outdoor toys, sports equipment, books, board games, art supplies, craft kids, or small gift cards. If you can help with any of these items, please send them to the office. We appreciate all your help and support during this exciting time! We can't wait for our students show off all they have learned!

We are excited that we get to have our annual Talent Show this year! It will look a little differently but auditions are happening April 9! Forms went home with students a week ago and are due this week! We can't wait to see all of the talent at OUE! 🎤🩰🕺🪄

Don't forget, no school tomorrow due to Good Friday! Enjoy the beautiful weather during this long weekend! 🌸🌷🌼

OUE Families - The April calendar is posted on our Facebook page and the website. A paper copy is coming home as well! If you have any questions, please let us know. We will be sending home our schedule for state testing next week!