Lady Mustangs VB win Set # 2 over Summit Christian 25-16, and win the Match 2-0.

Lady Mustangs VB wins 2nd game Set # 1 vs. Summit Christian 25-22. Up 1-0 in Match.

Lady Mustangs fall in Set #3 15-5 to Berryhill. Lose Match 2-1.

Lady Mustang VB take Set # 2 over Berryhill 25-16. Match Tied 1-1.

Ok Union Tournament Scores Lady Mustang lose Set # 1 to Berryhill 23-25, down 1-0 in Match.

Lady Mustang SB Update Beat wilburton 5-0, and Hulbert 12-0. In 2nd and 3rd game @ Tal. Sequoyah Tournament

Lady Mustang VB wins Set #3 25-23 and Match 3-0 over CL. Sequoyah

Lady Mustang VB score update Lady Mustangs win Set #2 25-20 over Cl. Sequoyah. Lead in Match 2-0.

Score updates! Lady Mustang VB. wins Set #1 25-16 over Cl. Sequoyah. Lead in Match 1-0. Lady Mustang SB. Lost 1st Game 2-1 vs. Muskogee @ Tal. Sequoyah Tourney.

HOMECOMING WEEK AGENDA FOR NEXT WEEK! #GOSTANGS #BEATCLEVELAND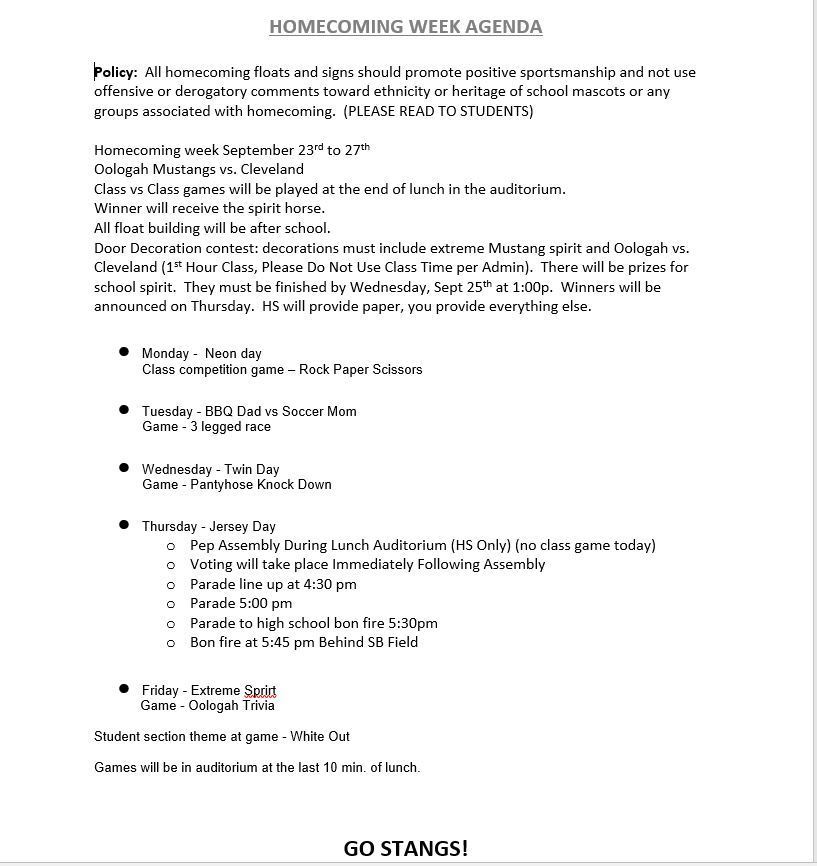 Mustang Athletics Action 9/19/19 🎾 Varsity @ Tal. Sequoyah Tourn. JH vs. Miami 5:00 (Home) 🏐 MS/JV/V vs. Claremore Seq. 4/5/6 (Home) 🏈 7/8 vs. Claremore Seq. 5:30 (Home) #GoStangs

Mustang Athletics Today!! Varsity SB @ Miami 5:00 JH SB @ Claremore Sequoyah 5:00 7/8/9/JV/V VB @ Inola 4:00. #GoStangs

Come out and Support Oologah Mustang JV FB today @ 6:00 pm @ Mustang Stadium vs. Skiatook. #GoStangs

Oologah Athletic 9/13/19 Today's JH SB games at Claremore Tourney have been cancelled due to the wet field conditions. Tomorrow's schedule will stay the same. Will play at 11 and 12:30 at Claremore. Varsity VB will be playing at Dewey Tournament. Today's games will be at Wesleyan Christian School in Bartlesville. Approx. game times today are 10:30, 12:00, 4:30 Varsity FB @ Skiatook 7:00 pm.

MUSTANG ATHLETIC ACTION TODAY. JH SB @ JAY 5:00 VARSITY SB VS. JAY (HOME) 5:00 LADY MUSTANGS LEAD 4-0 IN BOTTOM OF 3. EMMA GILL WITH A BIG 3 RUN HE IN 3RD! JH FB 7/8 VS. JAY (HOME) 5:20 START (10 MIN EARLY DUE TO WEATHER CONCERNS) #GOSTANGS

Lady Mustang Varsity SB win 8-0 over Grove tonight at Home. #mustangmagic #poundtheground

ATTN!! LADY MUSTANG SB WILL HAVE A MAKEUP DISTRICT GAME @ VINITA TOMORROW AT 4:00 PM IN VINITA. THIS WILL BE VARSITY ONLY, AND THEY WILL PLAY 1 GAME.

LADY MUSTANG ATHLETICS ACTION 9/10/19 JH SOFTBALL @ GROVE 5:00 V/JV SOFTBALL VS. GROVE (HOME) 5:00 #POUNDTHEGROUND

‪Shoutout to the Lady Mustang SB team as they shut out Clevland 7-0 today! Will play Claremore, Saturday @ 4:00 at Mustang Field for the Championship of the Oologah Tournament! #poundtheground ‬

Mustangs FB and Collinsville start at 7:00 at Mustang Stadium!! #mustangmagic If you can't make the game. Catch it on the live stream.
https://youtu.be/qzD9OdWyJ-c