Good afternoon OLE. We are going to try and stay in-person next week. We will continue to monitor numbers this weekend and Monday. We might need to make a different decision as we go. Again, as of now we WILL be in school Monday. Tech Bags were sent in case the decision changes or you would like to choose Distance Learning. If you would like to transition to Distance Learning, PLEASE fill out the form by Sunday at 5:00pm. This helps our teachers plan for the week. I also listed the link for the Grab and Go lunches. Click the link for more information. Stay safe and have a good weekend. Mrs. York DL Form:
https://forms.gle/rZHBKgQj2pGucvWq7
Grab and Go Lunch Form, please click the link for more information:
https://forms.gle/6Ky7avneC1HjnRQp6
Happy New Year!!! I wanted to make you aware of our plans for next week as Rogers county is still in Red Phase. We will follow Orange 2 and be in person starting Tuesday. Monday is a professional day for teachers. Parents that are able to transition to Distance Learning can do do by filling out the form below by Sunday evening at 5:00pm. This will help lower our numbers at school. This is a 4 day Commitment for Tuesday-Friday. If you have questions, please email Mrs York.
Crysti.york@oologah.k12.ok.us
https://forms.gle/oFFMUoFebunvmqnw5
Covid Update for Dec 4th.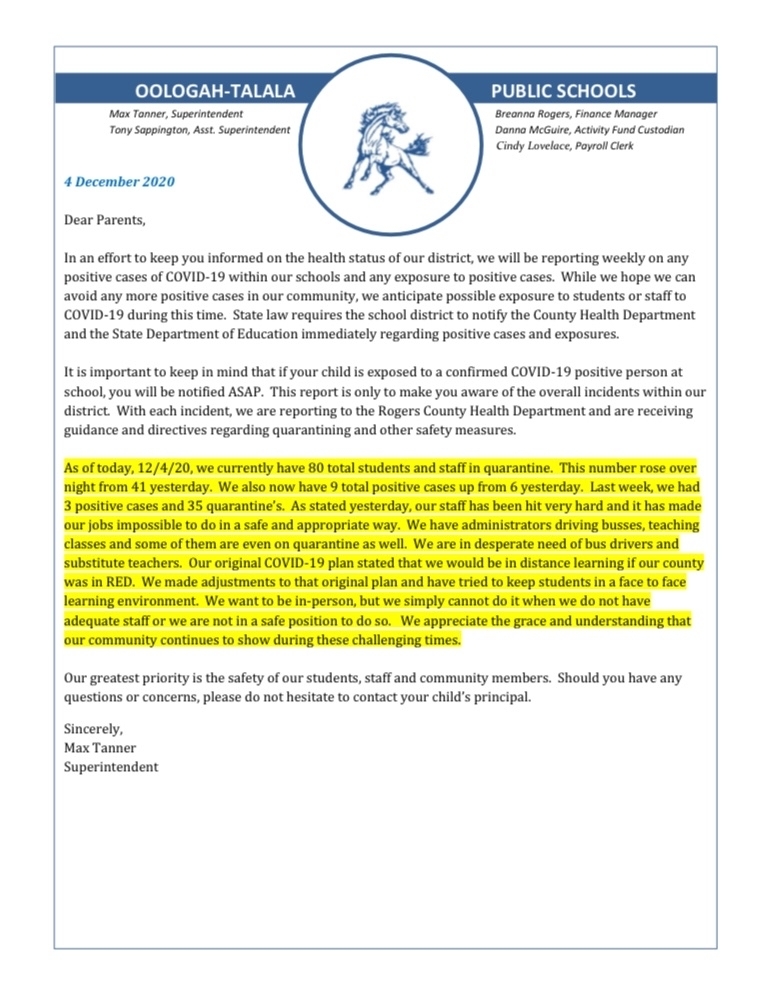 Free Grab and Go Meals Free Meals to Continue through May 28th for children 18 and under per USDA During Remote Learning days (Dec 7 – Dec 18) Free Grab and Go meals will be available by reservation and may be picked up daily at the UE Storm Shelter on the east side of the cafeteria. We will offer two pick up times; from 9 to 9:30am, and from 11:30am to 12pm. All students will receive one free Breakfast and one free Lunch daily until May 28, 2021. To place your order or reserve meals please go to the O-T Webpage. The Grab and Go Order Form link is on the first pop-up on the webpage. Orders must be submitted by 9am the previous morning. (ex: Order Friday by 9am for Monday.) You may order up to 7 days of meals at a time. If you do not have access to the internet you are welcome to call Tami @ (918) 373-3377, (918) 443-2020 ext. 6213, or Christy Chockley ext. 6057, to reserve Grab and Go meals. Please leave a message and we will return your call as soon as possible. Please take advantage of this opportunity of free meals for all children in our school district ages 18 and under. Although the meals are free to our families the state reimburses our Child Nutrition Program and helps our district run smoothly.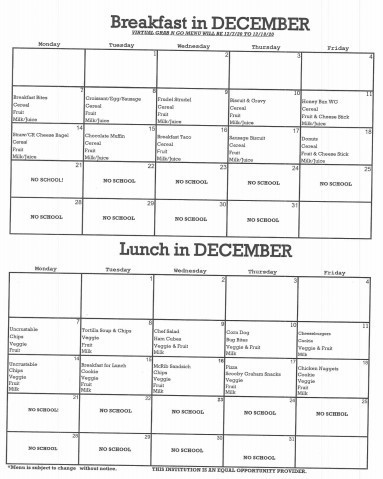 A rapid increase in both positive cases and quarantines has lead to unmanageable staffing issues on our campus and in our classrooms. Due to this, Oologah-Talala Public Schools will transition to distance learning for ALL STUDENTS during the weeks of December 7 - December 18. All necessary materials will be sent home with your student tomorrow, Friday December 4. Your child should login to Google Classroom for their assignments and communication from their teacher beginning Monday, December 7. It is our hope that we will be able to return to in-person instruction after Christmas break, but that decision will be made at a later date. Thank you for your support during this challenging time!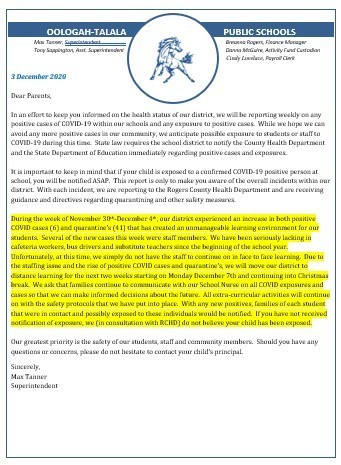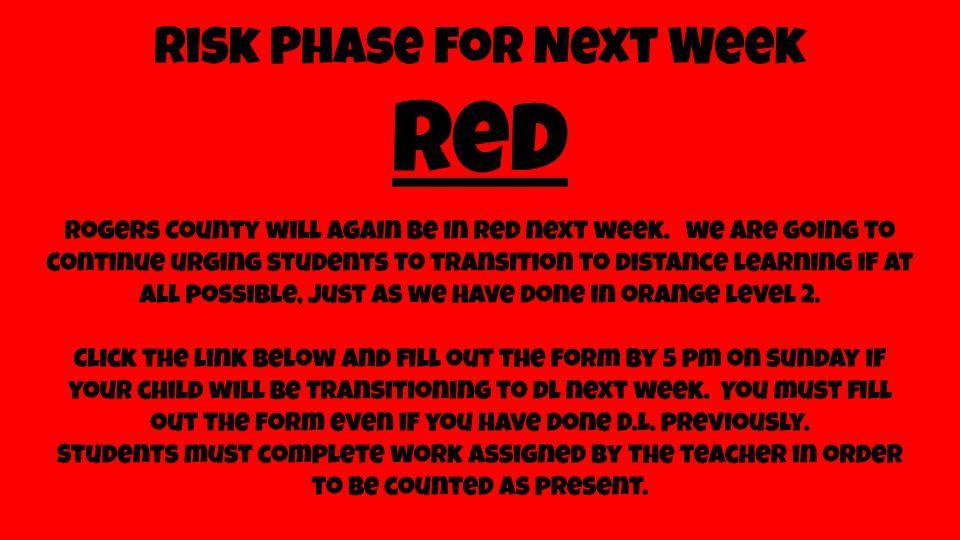 Covid Update for 11-27. Please read the letter from Mr. Tanner concerning Red Level for next week. Watch for more info coming as we will follow Orange 2 guidelines and parents can choose Distance Learning.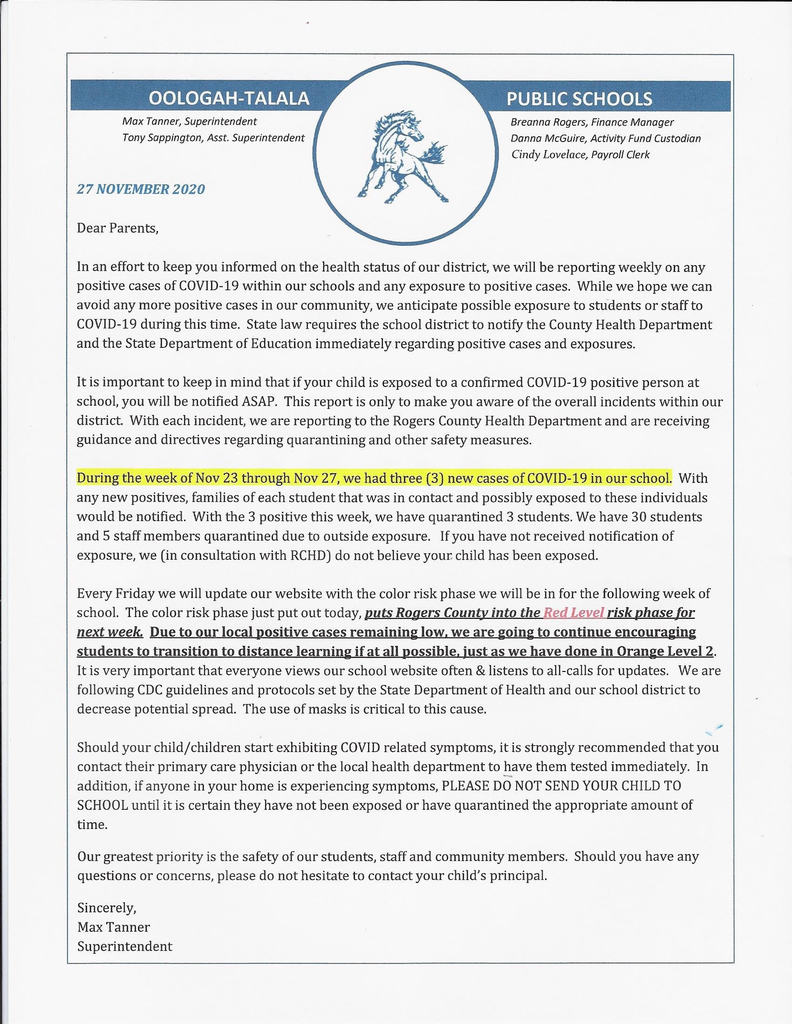 Covid Update 11-20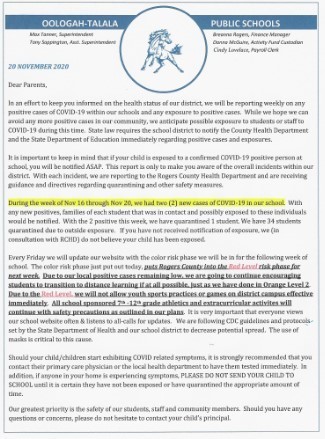 Lower Elementary Parents, As a precaution we will be sending home tech bags along with workbooks over the break. Please leave tablets and workbooks in your child's backpack so they don't get lost or damaged during our week off. We will update you about the county color at the end of next week. Thank you and have a wonderful Thanksgiving Break. Mrs. York
See this video update from Mr. Sappington regarding Covid-19. We thank you for your support and teamwork. Click the link below.
https://youtu.be/LJqTIxNiEWw
Please click on the link if your child will be transitioning to distance learning next week. If your child is already on distance learning this week we still need you to fill the form out for next week.
https://forms.gle/LDm1v3ZAGx71JprLA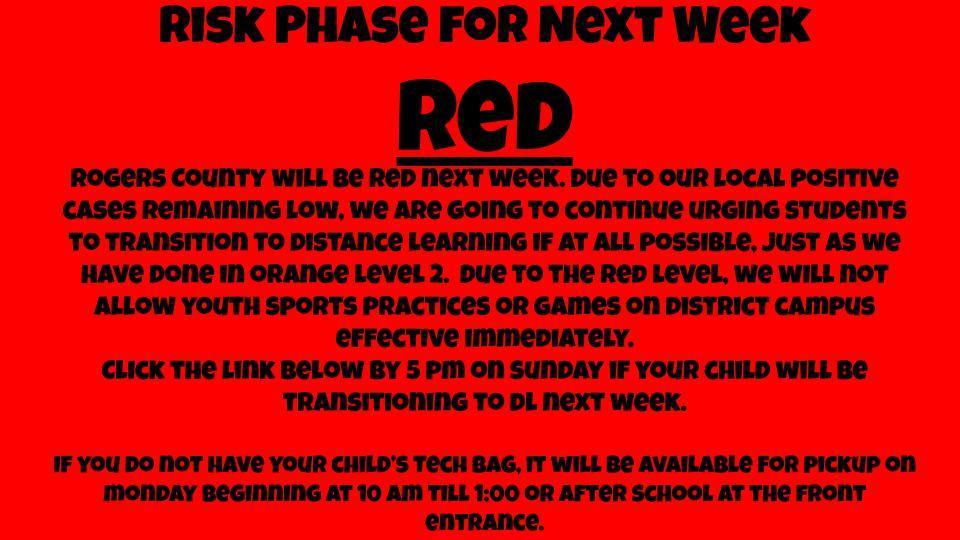 Please see the image for this week's COVID update.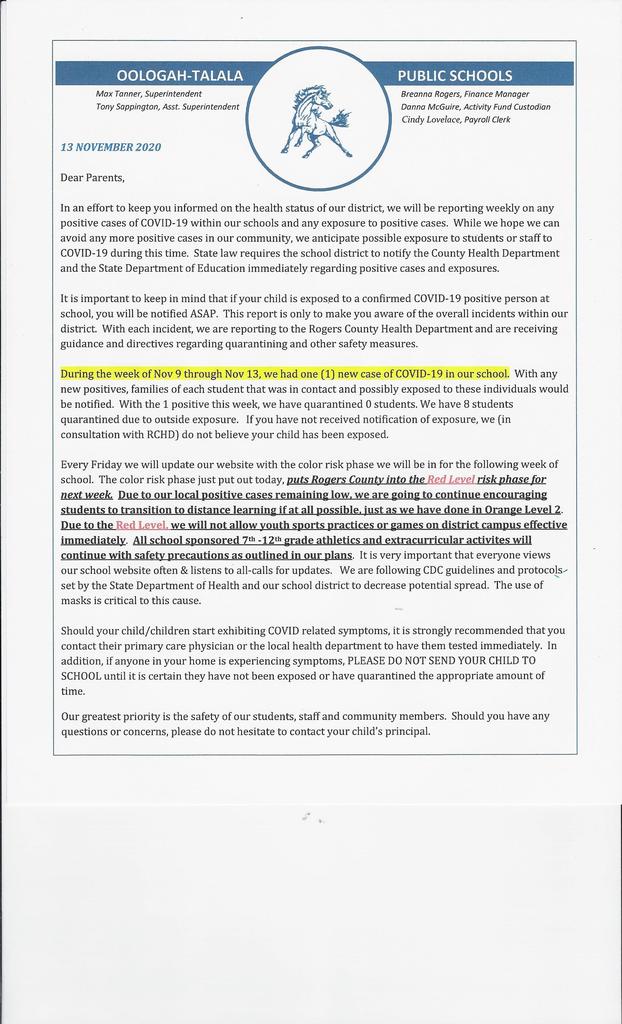 Happy Veteran's Day from OLE
Walk-a-thon Money is due November 2nd! Our goal is 2,000 dollars. We are halfway t here!
No school Monday, October 23rd due to Teacher professional development day.
Click the graphic below for the OLE Virtual Enrollment form.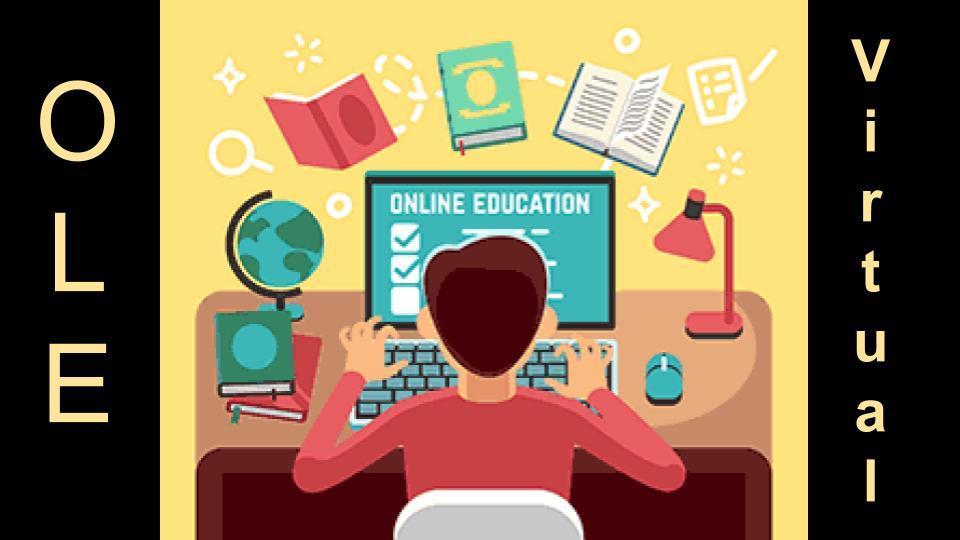 It's Time to Celebrate!!! Teacher Appreciation Week. Send your teacher a note to help us celebrate! May 4-8th.